As designers we are constantly being exposed to thrive on taking risks at all stages of design.
Design aspects of a film festival dedicated to a director of your choice. Discover the common thread that appears in a set of their films, and conceptualize an aesthetic that brings it to life. Create a system of deliverables that captures the soul of the film festival, and apply to the visual system throughout.
Dark Revelation is dedicated to the director David Fincher. I am an admirer of his techniques including the strong visual sensibility to depict edgy subject matter, and visual sensual overcharged experiences he often creates. The common thread I discovered in the films was how the character's obsession is fueled by the dark side of the human psyche which forces them to face their internal struggles leading them to the small piece of light in the dark. The film festival tells the story of a detective obsessed with a case.
Creative Quarterly 43 // Runner-up
WEBSITE
darkrevelationfestival.com
We are constantly being exposed to face the unknown and to establish tools to find answers of tangible information.
A thesis gives you a chance to take on many roles within a single project. I was the designer, the art director, UX/UI designer, and project manager at the same time. To start I was asked to choose a problem to solve through design, followed by extensive research, and then finally deliver a robust solution to the said problem.
The freedom I was given to work on my thesis CareAware allowed me to unleash my knowledge and my talents without being overly directed. I was able to find a strategic solution to the problem I uncovered from my research, which lead me to achieve a successful conceptualized solution. Through its creation I was able to redefine an idea, through the creation of a brand and educational system that changed how my audience involved themselves, and participated with their Health Insurance.
"Tell me and I forget, teach me and I may remember, involve me and I learn," Benjamin Franklin
Creative Quarterly 43 // Winner
WEBSITE
careaware.us
WORKING THESIS SITE
careawarethesis.com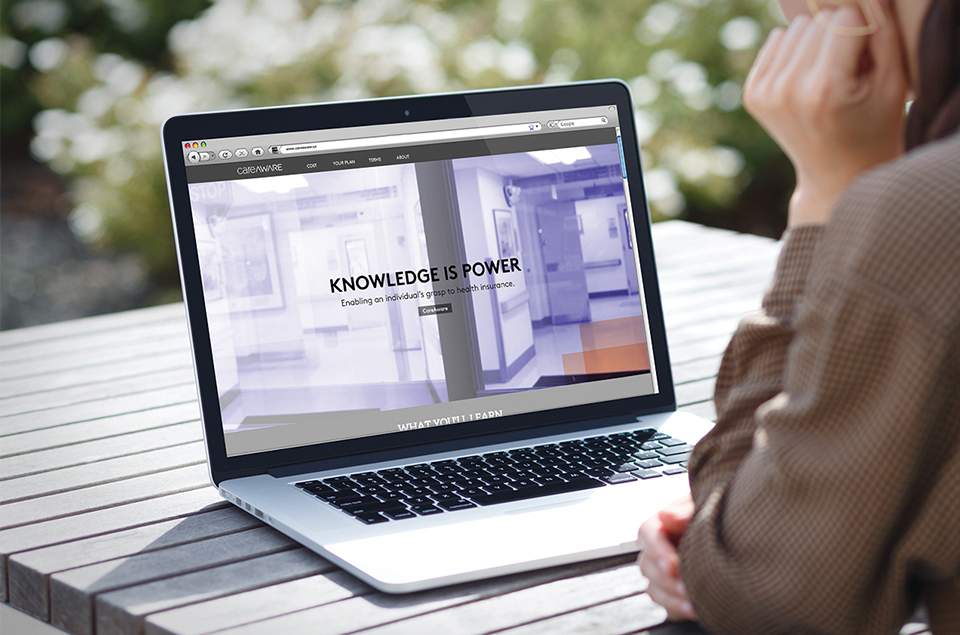 As designers we are constantly being exposed to different perspectives on the reality of life.
Design a non-profit organization to support the cause of your choice. Design an identity system, printed publication, responsive website, event, and environmental. All aspects were required to help display a strong visual system.
The concept for Finish Strong stemmed from the difficulty of finding information about poverty and resources for those in poverty. In light of the fact, that there was an abundance of available sites dedicated to both subjects. A desire to compile the massive information is what sparked its creation. The purpose, to create a centralized location to obtain knowledge and awareness, how one can help through specific programs, and where those in need can find available help and benefits.
As designers we are constantly being exposed to new things to help to refuel our inspiration banks.
Design a typographic visual system campaign for a non-profit organization of your choice. Create a strong visual system that can be applied to a range of platforms including a book, and a responsive informational website, environmental branding, and an app that will help people get excited about the organization.
NOAA Fisheries was the organization that I chose. My interest in marine life stems from when I was younger with a dream of working with marine animals. NOAA Fisheries is responsible for the stewardship of the nation's living marine resources and their habitats. After research and exploration, I developed a visual system designed to hold up and function across multiple platforms. The visual goal was to arouse interest in marine life with a modern design aesthetic.
Creative Quarterly 43 // Winner
As designers we are constantly being exposed to invention, exploration, and the creation of the new.
Choose a brand that is dead, dying, or defunct, and identify its soul. Revive the brand by opening the company to a new audience while still remaining true to its original purpose. Design an extensive brand standards, identity, brand extensions.
I decided to re-brand Crayola from a company that supplies kids and parents with youthful, playful, and creative products to a company that evokes both creativity, and imagination to inspire innovative thinking. The passion for innovation is all around us in the world, and industries of all disciplines are looking to creative individuals for the answers. The way I achieved such a big leap was by taking Crayola's strong passion for creativity, and adding to it the new and exciting world of innovation.
Creative Quarterly 43 // Winner